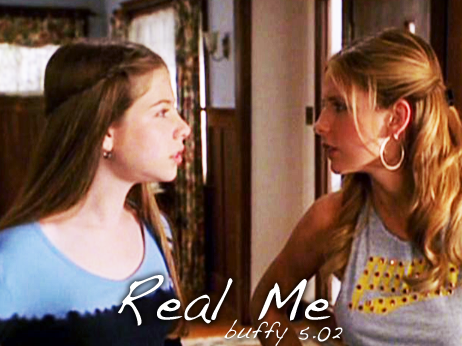 LOLOLOL I THOUGHT IT WAS MONDAY ALL DAY SORRY SORRY SORRY SORRY SORRY.
Buffy 5.02 - Real Me
First aired: 10/3/2000
Through her diary entries, Buffy's little sister Dawn gives her views on Buffy, Slaying, and the rest of the Scooby Gang. Though she only appeared at the end of the last episode, it now seems that she has been around since before the series started.
Writer: David Fury
Director: David Grossman
Guest star: Mercedes McNab (Harmony), Amber Benson (Tara), Kristine Sutherland (Joyce Summers) , Brian Turk (Mort), Faith Abrahams (Peaches), Tom Lenk (Cyrus), Bob Morrisey (Crazy Guy), Chaney Kley (Brad)